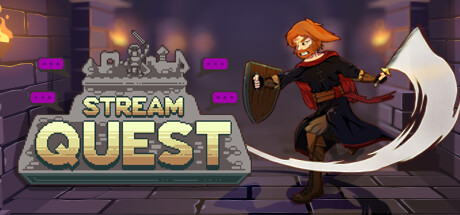 Stream Quest
Stream Quest is a game designed for streamers and played by their viewers! PLEASE BE AWARE OF THIS B
基本信息
更新日期:

版本:

最新版

类型:

平台:

评分:

发布日期:

2021-01-22

价格:

开发者:
Stream Quest

游戏

简介

Stream Quest is a game designed for streamers and played by their viewers!
PLEASE BE AWARE OF THIS BEFORE BUYING! This game is not playable without a Twitch account!

Stream Quest is a Twitch-chat controlled RPG designed for Streamers to run either alongside other games, during breaks of longer streams or along with their viewers (either competitively or collaboratively!)

With features designed to make it as customisable as possible and as engaging towards the Streamers as possible, Stream Quest currently has the following features.
Fully customizable Chat commands, dictating exactly how your community engages!
Bits Rewards with custom values, with Full Heal, Double Damage and even the ability to summon a Streamer-controlled Ally!
The option for any Channel Subscribers votes to count double when voting for Player actions!
With great features still in active development (Levelling system, Magic, more Streamer-controlled elements….)