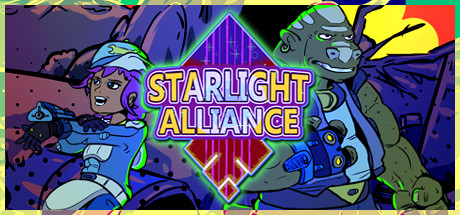 Starlight Alliance
Starlight Alliance is an Action RPG featuring two playable characters. Together, they travel through
基本信息
更新日期:

版本:

最新版

类型:

平台:

评分:

发布日期:

2021-05-05

价格:

开发者:
游戏简介
Starlight Alliance is an Action RPG featuring two playable characters. Together, they travel through space in hopes of finding a way to save a dying planet earth.
Story
Something is very wrong in the sky cities far above planet earth's surface. As the fully automated systems slowly fail and everything crumbles, there might be something a mechanic and an ex-cop can do to avoid a potential societal collapse. Luckily for them, this involves a lot of shooting and punching drones, androids and robots – a perfect fit for their combined skills. However, the truth hidden on earth's nearly dead surface is quite devastating. Saving earth will involve travelling through the dark and cold nothing that is space. The trash robots are kind of cool, though.
Play this game if you…
…like action RPGs, 3rd person shooting/punching, fast action, character development (skills/stats/levels), exploring, solving puzzles, dystopian settings or shooting these annyoing leaky drones with their big eyeballs that tell you to get back to work.
Features
Colorful graphics with a light toon touch depicting a somewhat dystopian and dark future
An original soundtrack with light chiptune touches
Two playable characters switchable at any time
Fastpaced combat, two styles – shoot or punch! See what works best for the different enemy types
Light bullet hell leanings and counterable shots
Shooting doesn't require precision thanks to an aim helper – stay mobile without worrying about aiming!
Play with arrow keys/WASD and mouse only, or use a gamepad to get a more console-like experience
Light puzzles involving different mechanics like item usage, jumping, shooting or warping
Many boss battles or special fights
Experience and level system
Learnable and upgradeable skills
Equipment and inventory system
Craft new items with materials and get better armor, shields and weapons
A simple quest system to keep track of things
Varied and often strange locations on earth and in space
Optional more open areas if you like exploring – and there's valuable stuff out there to find!
About 15 hours of gameplay