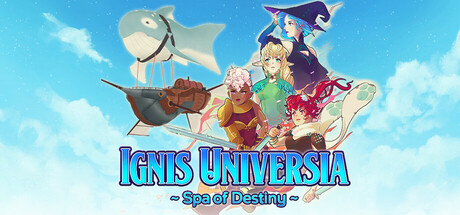 Ignis Universia: Awakening of the Erudite Empress
Hi there!Could I bother you just a bit? Hey, please don't scroll down! Just click that "Read Mo
基本信息
更新日期:

版本:

最新版

类型:

平台:

评分:

发布日期:

2021-05-04

价格:

开发者:
游戏简介
Hi there!
Could I bother you just a bit? Hey, please don't scroll down!
Just click that "Read More" button, ok?
Done? Cool. cool. I'm in a bit of a pickle here. You see, I was supposed to be saving the world — don't raise that eyebrow, it's not like I haven't done it before! — but then the Fates intervened, something terrible happened and… let's just say I'm indisposed for the time being. So, I'll need you to help guide my dear friends the Chosen Sisters to victory.
You haven't even heard of them? Phew, that's easily remedied. Just check the link below, it's free and only takes like half an hour to complete.
https://store.steampowered.com/app/694060/Ignis_Universia_Eternal_Sisters_Saga_DX/
*whistling*
Back already? I told you it wasn't a long one.
So, uh, yeah, let me tell you about the Sisters. I just know you'll love them.
Ah, good old Silvanna. She can be a bit snappy at times, but she's really the heart of the party. And I mean party.

Zena was the second of the Chosen Sisters I met, a real princess — in the "cross her and she'll tear your limbs out" kind of classic way, I mean.

We literally bumped into Eleanna by accident, but she's the sweetest elf I've ever met and she would certainly agree!

Mordina is the coolest person I know! Yes, she used to be a dungeon mistress and kind of evil, but she got better!

I have to warn you, though. This adventure won't be over so fast as you need to venture into the larger world. And that's not all that has changed, there a ton, like:
It's presented in the classic JRPG style with the colourful graphic to match, but
This time it's in full 3D. Except for the UI and bits. Would be really silly to do them in 3D, right? Ah haha. Anyway, it's still
100% turn-based, so no twitch-reflex special attacks or annoying whack-a-mole minigames. I promise! Last, but definitely not least,
There's a ton of cute animals you can summon! They're really adorable! Oh, I wish I could be there too!
Right-o. I guess that's the most important stuff for now. There will be more later, of course, so maybe click that shiny Follow button to stay up-to-date.
Have fun saving the world and best of luck,
– The Null Brother