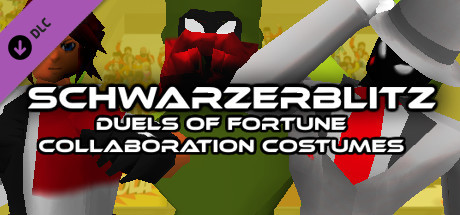 Schwarzerblitz – Duels of Fortune Collaboration Costumes
Ladies and gentlemen, welcome to the..
基本信息
更新日期:

版本:

最新版

类型:

平台:

评分:

发布日期:

2021-02-21

价格:

开发者:
Schwarzerblitz

游戏

简介

Ladies and gentlemen, welcome to the Duels of Fortune tournament!

A tournament! A winner! A wish to be granted! With this official Duels of Fortune collaboration, Johnson, Renzo and Evilobster dress up to win! Be it the disasterrific hero Callowman, the burning Clyde or the stylishly evil Sylvan, everyone is on board for a show!

Important Note

To use the Callowman DLC costume, you need first to have unlocked Evilobster by either:
clearing the game's arcade mode with Shaz Aliart OR
clearing the story episode "End of the Beginning" OR
answering YES to the initial "unlock all characters" prompt OR
using one of the cheat codes listed in the Discussion threads.