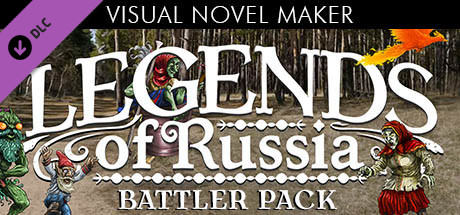 Visual Novel Maker – Legends of Russia – Battler Pack
Journey into the dark forests of ancient Russia and encounter the strange, dangerous denizens within
基本信息
更新日期:

版本:

最新版

类型:

平台:

评分:

发布日期:

2021-03-04

价格:

开发者:
游戏简介
Journey into the dark forests of ancient Russia and encounter the strange, dangerous denizens within! This collection includes fearsome beasts, lost souls, and mischievous spirits who lived in peasant houses. Populate your games with this unique catalog of characters and learn the lore that has been handed down for generations from the included mythology guidebook!
Features:
* 20 battlers based on Slavic mythology!
* High-res art for VNM and versions sized for RPG Maker MZ/MV and VX Ace in .png format
* Mythology guidebook with both English and Russian language editions! Ten page .pdf with a description of all the battlers in this set!
* BONUS content: Legends of Russia theme music track, one battleback, one title screen, and a 4-directional Baba Yaga sprite!
Terms of Use:
* This pack is for use in RPG Maker Series or the engine of your choice.
* OK to be used in Commercial projects
* Contents can be edited
* OK for use in games with gore
* OK for use in adult-rated games