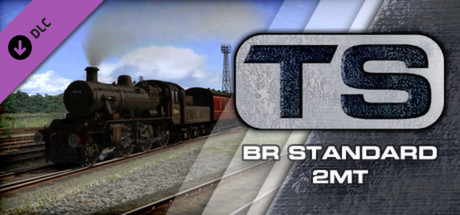 Train Simulator: BR Standard Class 2MT Loco Add-On
英国铁路的标准级机车中最小的BR标准级2MT,现在可用于列车模拟器
基本信息
更新日期:

版本:

最新版

类型:

平台:

评分:

发布日期:

2013-04-04

价格:

开发者:
Train Simulator

游戏

简介

The smallest of British Railway's Standard class locomotives, the BR Standard Class 2MT, is now available for Train Simulator.

Originally derived from the Ivatt-designed Class 2MT for the London, Midland and Scottish Railway, the BR Standard Class 2MT was designed by R.A. Riddles with a 2-6-0 wheel arrangement and tender, with some differences to its LMS cousin. Noticeably, these included a reduced cab and taller chimney, and copied the tender cab from the LMS version to give the crew better visibility, especially when running tender first.

The Class 2MT, often nicknamed 'Mickey Mouse', was also designed to be light in weight so it could operate on mostly light laid routes and secondary lines, primarily in the North of England and Scotland, proving its versatility to haul passenger and freight trains. The BR 2MT is also known as having one of the shortest operating lives of BR steam locomotives, being built between December 1952 and November 1956, and being withdrawn a few short years later by August 1967. However, four of the class have survived on the UK's preserved lines.

The Standard Class 2MT for Train Simulator, developed by Digital Traction, is available in British Railways black livery with early and late crests, and features lamp and firebox effects, custom headcode and headlamps, realistic driving physics and steam effects.

The locomotive is also Quick Drive compatible, giving you the freedom to drive the BR Standard Class 2MT on any Quick Drive enabled route for Train Simulator, such as those available through Steam. Also included are scenarios specifically for the Western Lines of Scotland (available separately and required to play these scenarios).

Scenarios

Six scenarios for the Western Lines of Scotland:
All Fired Up
You've Got Mail
Stewartry All Stops
The Errand Boy
Galloway All Stops
Job Done
More scenarios are available on Steam Workshop online and in-game. Train Simulator's Steam Workshop scenarios are free and easy to download, adding many more hours of exciting gameplay. With scenarios being added daily, why don't you check it out now!
Click here for Steam Workshop scenarios.
Key Features
Standard Class 2MT in British Railways black (early and late crest) livery
Quick Drive compatible
Lamp and firebox lighting effects
Custom headcodes and headlamps
Realistic locomotive driving physics
Scenarios for the Western Lines of Scotland route
中文翻译
英国铁路的标准级机车中最小的BR标准级2MT,现在可用于列车模拟器。
最初源自为伦敦、米德兰和苏格兰铁路设计的Ivatt级2MT,BR Standard Class 2MT由R.A.与2-6-0轮排列和招标的谜语,与它的LMS表兄弟有一些不同。值得注意的是,这些包括减少的驾驶室和更高的烟囱,并从LMS版本复制了招标的驾驶室,以使机组人员获得更好的可见性,尤其是在首先运行招标时。
通常被昵称为 "米奇老鼠" 的2MT也被设计为重量轻,因此它可以在大部分轻铺设的线路和次要线路上运行,主要是在英格兰北部和苏格兰,证明了其运输客运和货运列车的多功能性。BR 2MT也被称为具有运行寿命最短的BR蒸汽机车之一,在1952年12月至1956年11月之间建造,并在短短几年后到1967年8月撤回。然而,其中4个班级在英国保留的线路上幸存下来。
火车模拟器的标准等级2MT,由数字牵引,是英国铁路黑色的livery与早期和后期的波峰,并具有灯和火箱效果,自定义头码和前照灯,现实的驾驶物理和蒸汽效果。
机车也是快速驾驶兼容,让你可以自由驾驶BR标准班2MT在任何快速驾驶的路线,如通过蒸汽可用。还包括专门针对苏格兰西部线(单独提供,并且需要播放这些场景)。
场景
苏格兰西线的六种情景:
全火了
你有邮件
Stewartry All Stops
The Errand Boy
加洛韦所有停止
作业完成
Steam Workshop在线和游戏中提供了更多场景。火车模拟器的蒸汽车间场景是免费的,易于下载,增加了更多的令人兴奋的游戏时间。随着场景每天都在增加,你为什么不现在就去看看!
单击此处查看Steam Workshop场景。
主要特点
英国铁路标准等级2MT黑色 (早期和晚期波峰) livery
兼容快速驾驶
灯和燃烧室照明效果
定制头码和前照灯
现实的机车驾驶物理
苏格兰西线路线的情景