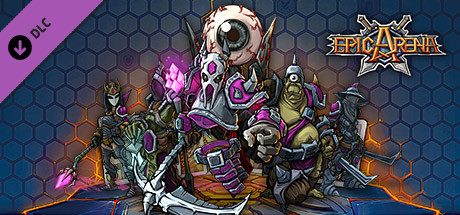 Epic Arena – Legion Of Chaos Pack
在混沌之眼的力量的指导下,混乱军团在一个充满不确定性和残暴的世界里茁壮成长
基本信息
更新日期:

版本:

最新版

类型:

平台:

评分:

发布日期:

2015-05-05

价格:

开发者:
Epic Arena

游戏

简介

Guided by the power of the Eye of Chaos, The Legion of Chaos thrives in a world of uncertainty and brutality. Forever advancing on the Third Plane of Existence they seek control of the Arena and will defeat all those who oppose the return of entropy and decay.

Team Bonus:
Gifted in the dark arts, The Legion of Chaos enjoys a 10% bonus to their magical defenses. Spell users beware!

This add-on includes the Legion Of Chaos deck and 9 Chaos avatars.

中文翻译
在混沌之眼的力量的指导下,混乱军团在一个充满不确定性和残暴的世界里茁壮成长。永远在存在的第三平面上前进,他们寻求对竞技场的控制,并将击败所有反对熵和衰变回归的人。
团队奖金:
混乱军团在黑暗艺术中获得了天赋,他们的魔法防御可以获得10% 的奖金。拼写用户当心!
这个附加组件包括混乱军团甲板和9个混沌头像。