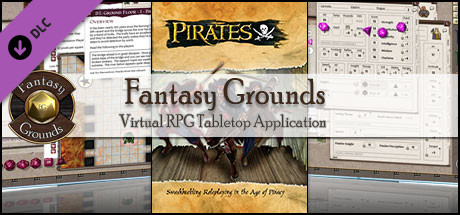 Fantasy Grounds – Savage Worlds Setting: Pirates
在加勒比海的水域,有可能被创造和丢失…… 或者被偷走
基本信息
更新日期:

版本:

最新版

类型:

平台:

评分:

发布日期:

2016-08-15

价格:

开发者:
Fantasy Grounds

游戏

简介

In the waters of the Caribbean there are fortunes to be made and lost…or stolen.

In these times it takes courage and daring to carve out a niche and forge a new legend. Will you sail the high seas in search of fame and fortune, lead a band of buccaneers in search of booty, or captain a ship of the line in the service of King and country?

Pirates™ is a complete game based on WizKids' best-selling Constructible Strategy Game™ and the award winning Savage Worlds roleplaying game system. All the rules you need to play this game of fast and furious swashbuckling fun are in this book.

So set a course for adventure; fame and fortune await over the horizon.

Requires: A Fantasy Grounds full or ultimate license or an active subscription and the Savage Worlds ruleset.

中文翻译
在加勒比海的水域,有可能被创造和丢失…… 或者被偷走。
在这个时代,要开辟一个利基,锻造一个新的传奇,需要勇气和胆量。你会航行在公海寻找名利,带领一群海盗寻找战利品,还是船长一艘为国王和国家服务的船?
海盗™是一款基于WizKids最畅销的Constructible Strategy game的完整游戏™以及获奖的Savage Worlds角色游戏系统。所有的规则,你需要玩这个游戏的快速和愤怒的摇摆的乐趣都在这本书中。
因此,为冒险设定一条路线; 名利在地平线上等待。
要求:一个幻想的完全或最终的许可证或一个活跃的订阅和野人的世界规则集。