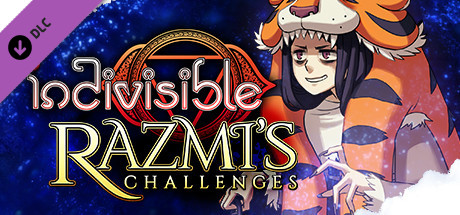 Indivisible – Razmi's Challenges
什么是Razmi的挑战
基本信息
更新日期:

版本:

最新版

类型:

平台:

评分:

发布日期:

2020-05-07

价格:

开发者:
Indivisible

游戏

简介
What is Razmi's Challenges?
Razmi's Challenges is a paid DLC pack that adds bite-size challenge levels to the game, emphasizing mechanics that are used across the main game, including more advanced combinations of maneuvers.
It's hosted by everyone's favorite curmudgeon Razmi with plenty of comic dialogue between her and Ajna.
Story Outline
Razmi has decided to annoy Ajna by challenging her to do something impossible, promising a "reward." Ajna accepts the first challenge and after the player succeeds at it, Razmi claims it was part of 40 things you have to do, but Ajna remains optimistic and is willing to go through all of them. Razmi is discouraged by Ajna's continued success but is determined to make Ajna look foolish, so keeps coming up with new absurd challenges. As the player continues, other fan-favorite characters tell Razmi that it is getting to be too much, which Razmi stubbornly ignores.

As we reach the conclusion, Razmi starts to feel bad about it because Ajna is having a tough time but she's in too deep to tell Ajna it was all a ruse. When the player finishes all the challenges, Razmi will actually go to the bother of rustling up a present, but Ajna will reveal she figured it out a while ago, isn't that dumb and knows there's no reward, but it was fun training together. Razmi says she'll keep the reward to herself. Ajna insists on receiving whatever it is.
● Missions are gated by players' current story progress. These will be spread across the game for players starting from early on, with new sets of challenges unlocked at points in the story where they learn new abilities.
● DLC will begin for players on a new save file once they have added Razmi to the party.
Thanks for your support,
505 Games team

中文翻译
什么是Razmi的挑战?
Razmi的挑战是一个付费的DLC包,增加了咬大小的挑战水平的游戏,强调了在主游戏中使用的力学,包括更先进的组合的机动。
它由每个人最喜欢的滑稽的Razmi主持,她和Ajna之间有大量的喜剧对话。
故事大纲
Razmi决定通过挑战Ajna做一些不可能的事情来惹恼Ajna,承诺获得 "奖励"。Ajna接受了第一个挑战,在球员成功后,Razmi声称这是你必须做的40件事情的一部分,但Ajna仍然乐观,愿意经历所有这些事情。Razmi对Ajna的持续成功感到气馁,但决心让Ajna看起来很愚蠢,所以不断提出新的荒谬挑战。随着玩家的继续,其他粉丝喜欢的角色告诉Razmi,它变得太多了,Razmi顽固地忽略了这一点。

当我们得出结论时,拉兹米开始对此感到难过,因为Ajna度过了一段艰难的时期,但她太深入了,以至于无法告诉Ajna这一切都是一个骗局。当玩家完成所有的挑战时,拉兹米实际上会费心地去做一件礼物,但阿杰娜会透露,她前一段时间已经弄清楚了,这不是愚蠢的吗,知道没有奖励,但一起训练很有趣。拉兹米说她会把奖赏留给自己.阿杰娜坚持不管收到什么。
● 任务由球员当前的故事进度进行管理。这些将从早期开始在游戏中传播给玩家,在他们学习新能力的故事点解锁新的挑战。
● DLC将开始为玩家在一个新的保存文件,一旦他们添加了Razmi到派对。
感谢您的支持,
505运动会代表队